Don't get me wrong. Salads are great. Every once in a while, I like an excellent chicken caesar salad. But eating the same leafy greens the same way day in and day out can be tedious and quite frankly, the biggest hurdle for me when it comes to my diet. I love variety and new things in what I cook and eat. As summer gets ever closer, most of us want to put our best foot forward. For those of us who have gotten bored of the regular bowl of lettuce, here are a few summer salad ideas that can help you stick to your diet.
Video Overview
Thai Cucumber Salad
This light and fresh Thai salad is a great companion to any Thai (or Asian food — I like it paired with some fried rice or some miso soup) dish and will help to keep you from overindulging on the more substantial main course. The cucumber ribbons are dressed with a ginger dressing that you can mix up and use for any kind of Thai salad you want to mix up. This salad makes between two and four servings, depending on your preference.
One large cucumber

2 tsp Toasted sesame seeds

Red pepper flakes to taste

1 tsp fresh cilantro or parsley

1 small 1-inch cube of ginger, peeled and chopped

1 lime, juiced and zested

1 tsp sesame oil

2 Tbsp of EVOO

1 Tbsp soy sauce or tamari
Make the dressing by combining the ginger, lime zest, and juice, sesame oil, EVOO and soy sauce in a bowl. Whisk together until emulsified. Set to the side. Use a vegetable peeler and make long noodle-like pieces of the cucumber. In a medium-sized bowl, add the sesame seeds, red pepper flakes, and cilantro. Pour the dressing over the cucumbers and mix until all the pieces are covered. Cover the bowl and let marinate in the fridge for an hour or two before serving.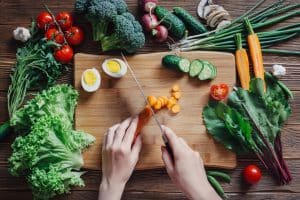 Corn Tomato and Avocado Salad
One of my friends made this at a cookout, and it was amazing! The avocado adds some good fats to the salad and the fresh corn off the cob is an excellent addition. You can even jazz it up by adding shredded chicken or bbq shrimp to it to make it a full meal. This salad serves four and holds well in the refrigerator for about 3 days.
1 cup of steamed OR grilled corn cut from the cob, about 1 ear

1 medium diced avocado

1 ½ cup sliced cucumber

1 cup halved cherry tomatoes

2 Tbsp diced red onions

2 tsp EVOO

Juice from 1 medium lemon

Salt and pepper to taste
Add all the vegetables to a medium-sized bowl. In a small bowl or glass measuring cup, add the EVOO, lemon juice, and salt and pepper. Stir with a fork until emulsified. Pour the dressing over the vegetables and stir. You can serve immediately or chilled. Enjoy!
Rainbow Fruit Salad
There's a little produce stand just around the corner from my house. Every once in a while we go by and pick up some fresh berries and peaches. I can't help it, you can smell the peaches before you can even get to the stand window. I may have scouted this recipe from the internet after I went a little hog wild, buying a large bag full of fresh berries and a few peaches for good measure. This recipe makes a beautiful salad that you and your family can enjoy for a few days, but trust me, it won't last that long. It makes roughly six servings, or four if you have a bit of a sweet tooth as I do.
To make the dressing:
2 Tbsp honey

1 tsp orange zest

1 tsp lime zest

2 Tbsp freshly squeezed orange juice

½ Tbsp fresh-squeezed lime juice
Simply mix all of the ingredients in a small bowl and whisk until combined. It's best if used right away.
To make the salad:
1 small pineapple, cored and diced

1 mango, peeled and cubed

1 peach, pitted and cubed

1 nectarine, cubed

½ lb strawberries, hulled and halved

About 11 oz of fresh blueberries

Citrus-Honey dressing

1 Tbsp fresh mint leaves, julienned
Add all of the fruit into a medium to large sized bowl. Store in the fridge to chill. Stir in the dressing and the mint right before serving, as the dressing will soften the fruit and make it release their juices. Serve as a refreshing side dish or as a lovely dessert on a hot summer day!
Now you have a whole slew of new salads to try and can no longer say that salads are boring and humdrum. Hopefully, this will inspire you to stay on your diet a little bit longer and get that summer body you've been dreaming of. Make, eat, and rejoice in your delicious new salad recipes that you'll be pulling out every summer from here on out.