Everyone needs a break sometimes, and a break is always better with someone that you love. Whether it's your best friend, your partner, or a family member, go on a getaway to help bring you both a little closer and get that well-needed rest that you deserve. Here's how to help plan a stress-free getaway for you and one more. (And while I wrote this helping you focus on your partner, this can be applied to any travel partner. So grab your traveling buddy and get to it!)
Video Overview
#1. Be creative
When it comes to planning a trip for you and your partner, it's a great idea to think outside the box. If your partner has a thing for outdoor adventures, take it outside. Nothing is saying that a getaway has to be cookie cutter. My best friend and her fiance's version of a romantic getaway is white water rafting in the mountains, while my boyfriend and I love to stay close to home, staying at a B&B and sticking close to downtown to try some new restaurants. Think about something that you and your other half love to do together. Even better: plan a trip to do something that you both have wanted to do, but haven't gotten a chance to!
#2. Take your time
The hustle and bustle of your usual life are behind you, at least for now. (Although, I won't judge you if you DO like the hustle and bustle. Just take a little time to relax for me, please?) Your goal should be you and your partner and not much else. Plan some alone time at a luxury hotel or spa, tour the countryside, or go to a restaurant or bar crawl. Whatever you do, there's no need to stick to a plan or overthink it. Just take a breath and relax.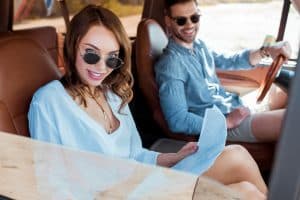 #3. Ditch the diet, but only for the vacay
If you're like me, sticking to a diet can mean jumping through too many hoops to make sure that you stick to it. This is a getaway with you and your partner, so remember the first rule of any vacation: there are no rules. Eat bread. Drink a little. Enjoy your time with each other and, if you find yourself in a city that centers around great food and drink, ditch the diet and partake in the goods.
#4. Pack light
Keep your luggage sets at home. Pack a backpack with just a few essentials and hit the ground running. You want to move through your getaway with ease, not be bogged down by your luggage. This works better if you're staying close to home, however, but the idea remains the same. Even if you lose your luggage, only a few things are lost. Pack for a few days and be minimalist about it. This is going to be about the having of fun, not the worrying over clothes. This also makes it easier if you opt to travel in 4-wheels, to save space for naps.
#5. Make your partner the focus
This is about strengthening your bond, and that's really difficult if one or both of you have your nose stuck in a phone or laptop. It must be said that I'm not immune to this. If I have my laptop within arms reach, I'll be fidgeting to get on it because there's always work to be done. Same for my phone (gosh darn availability of data!). So it's best for me just to leave it behind. My laptop, at least. My boyfriend usually ops to leave his phone in the car at dinners for the same reason. Whatever your vice is, leave it alone. When you leave yourself open and available to your partner,
Most of these tips are straightforward, but when you worry over something, the simple things go out the window sometimes. Don't let yourself fret of making your trip with your partner perfect, just focus on spending time with them. Your getaway should be about the two of you and how to make it better for both of you.