Getting out there and exploring the world can be an exhilarating experience. Sometimes planning your trip can be fun too, but most of the time it's overwhelming. When you're rushing around, trying to make sure that everything gets done, there are going to be things that slip through the cracks. Sometimes you won't even notice until it's too late. This can cause you to spend your whole trip fretting about what's going on at home or even derail your plans entirely. Here's a short list of things to make sure to include on your vacation checklist before you go.
Video Overview
Your Home
Your home is probably your most valuable assets, especially if you own a home. While you're away, you'll want the peace of mind of knowing that it's protected. Tag team a neighbor or a good friend to keep an eye on the place. Make sure that you give them any essential details that they'll need to know and when you intend on arriving back. Give them emergency contact information (just in case) and walk them through once or twice to give them the scoop. Instruct them on how exactly to maintain things like pets, plants, pools, yard, etc. If there should be any severe weather rolling through while you're gone, let them know what to do then as well. Be sure that it's someone you trust and thank them excessively when you get back.
Your Car
One of my best friends flew across the country for a wedding, and when she got to the airport at 4 a.m., she called me in a tizzy. "What do I do with my car?" We scrambled together to make sure that her car got back to her house and that her sister, who happened to be in town when she returned, picked her up. But this is one thing that you should get squared away ahead of time.
Airports and extended parking lots usually have pretty hefty fees. If you can scrape by with a cab or Uber, do so, but you can just as easily recruit a friend to drop you off. Either way, you'll want to know ahead of time how much you'll need, so you don't end up having to dip into your spending budget on your trip. Also, you won't have to worry too much about it being under the possible not-so-watchful eye of someone you've never met before.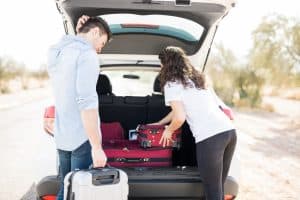 Your Pets
Pets can be like family for most of us, our tiny fur babies. When we have to leave them behind for an extended amount of time it can be rough. Check in your area to see if any kennels will let your baby spend an extended time there — especially if it'll be longer than a week or over a holiday. If you give yourself time to shop around, you can find the place that's best for your pet and know that they're being cared for by professionals.
Should a kennel not be something that you're comfortable with, you'll also have time to find someone to keep your baby company while you're away. You can consider hiring a pet sitter to come and spend the day with your pet and make sure that they get the proper care. Both will cost you, so it's great to know precisely how much beforehand. This can put you at ease while you're away.
Your Work
In all the ruckus to get yourself and your partner ready for your big trip, you overlook one super important thing: your work. I'm not talking about requesting time off, because that's something you should have done a long time ago, silly. I'm talking about all the work that could potentially pile up while you're away. For most jobs, like any retail or restaurant job, you can step away for a week and come back to your regular workload.
Office jobs, however, may have your work just piling up while you're gone. If you can, you can plan to start knocking some of this out ahead of time. You can either take a few extra Saturdays to come in and get it done if your supervisor okays it. If it's something that needs to be done promptly, see if others around you are willing to help. Take note of those who helped you and be sure to return the favor.
Some of these are pretty obvious, but you have no idea how many times these things can get passed over in a rush to get to paradise. Your home and your car are valuable assets that you need to make sure you have secured. Those little fur babies need to be taken care of while the rest of the family enjoys time away. The thought of a large stack of work when you get back to the office can stall any relaxation that you might have been wanting to get done. Making sure that you have everything lined up when you head out can ease your mind and help you get that relaxation that you deserve.