As the leaves change and the temperatures drop, there's no better way to embrace the essence of fall than by indulging in warm, comforting foods. Fall offers a bounty of delicious ingredients that not only nourish the body but also warm the soul. Whether you're snuggled up indoors or out on a brisk autumn adventure, these are the best foods to keep you warm and cozy during the fall season.
Hearty Soups and Stews
When the crisp autumn air descends, soups and stews become an essential part of the fall culinary experience. Hearty soups like butternut squash, potato leek, or classic chicken noodle warm you from the inside out. The combination of fresh, seasonal vegetables and aromatic spices in stews, such as beef and vegetable or chili, can make your taste buds dance with delight.
Roasted Root Vegetables
Fall is the season of root vegetables, and there's something deeply satisfying about the aroma of roasting vegetables in your kitchen. Potatoes, carrots, beets, and sweet potatoes are perfect for roasting. Drizzle them with olive oil, sprinkle some herbs and spices, and let them develop a delicious caramelized crust in the oven. Roasted root vegetables are both comforting and nourishing.
Pumpkin Everything
Pumpkin spice lattes may get all the attention, but pumpkin is a versatile ingredient that can be used in many savory and sweet dishes. Whether you're making pumpkin soup, pumpkin pie, or pumpkin muffins, the rich, earthy flavor of this iconic fall ingredient is a surefire way to feel cozy.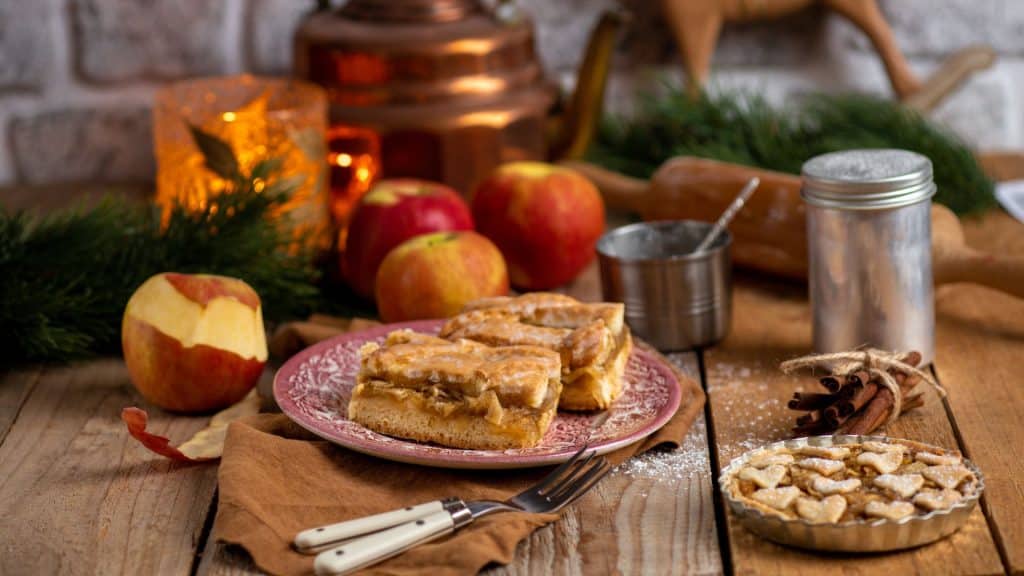 Apple Delights
Apples are at their peak in the fall, making them an excellent choice for creating a warm and cozy atmosphere in your kitchen. Bake apple crisps, pies, or make a simple yet delightful applesauce. The sweet and tangy aroma of apples cooking will fill your home with autumn goodness.
Comforting Casseroles
Casseroles are a go-to for many during the fall season. Whether it's a classic mac and cheese, a hearty shepherd's pie, or a vegetable lasagna, casseroles are the embodiment of warmth and comfort. They are perfect for feeding a crowd or enjoying leftovers throughout the week.
Spiced Hot Drinks
Fall is the time to savor warm, spiced beverages. From traditional hot chocolate with marshmallows to mulled wine, apple cider, and chai tea, there's a wide range of hot drinks to choose from. These beverages not only warm your hands but also your heart.
Oatmeal and Porridge
Starting your day with a warm bowl of oatmeal or other whole-grain porridge is a fantastic way to stay cozy as the temperatures drop. Top it with seasonal fruits, nuts, and a drizzle of honey for a wholesome and comforting breakfast.
Baked Goods
The smell of fresh, homemade baked goods wafting through your kitchen is one of the most delightful aspects of fall. From cinnamon rolls and banana bread to muffins and cookies, indulging in these treats is the ultimate cozy experience.
Comfort Food Classics
Fall is the perfect season for classic comfort foods like pot pies, meatloaf, and mashed potatoes. These dishes are filling, heartwarming, and remind us of the joy of home-cooked meals.
Embracing the fall season is not just about cozy sweaters and colorful foliage; it's also about enjoying the delicious foods that come with it. Fall offers a wide array of ingredients that are perfect for creating warm and comforting dishes. From hearty soups and stews to spiced hot drinks and apple delights, there's no shortage of ways to stay warm and cozy during autumn season. So, as the temperatures drop, head to the kitchen and whip up some of these delightful fall foods to make the most of this special time of year.