It's so nice to see this seriously reserved business woman grace the cover of Shape magazine and let us get to know her a little bit better! And as it turns out, she is even more amazing! The now, mother of two is in bare midriff for the May issue for Shape magazine showing off her post pregnancy bod and tells us all how she does it!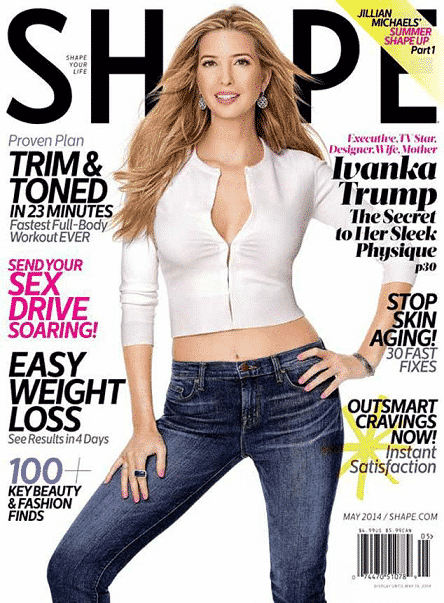 This past fall, the 32 year old power player in the Trump family, Ivanka gave birth to her second child and is learning to keep herself healthy for herself and her growing family.
She tells the magazine that she never really cared about what she ate before becoming pregnant but now she, "looks at food in a whole new way." The power mom credits her killer bod to her long time personal trainer, Rhonda Malkin. The two have to work around Ivanka's crazy travel schedule but on average they workout several times a week but that doesn't stop her from making sure to get her work outs in on her own time which really makes the difference.
In this issue she gabs about loving fitness apps, "I especially love the abs workouts! If I'm feeling motivated after I put the kids to sleep, I'll choose one and do a little something before bed."
And when those apps aren't motivating enough, she gets an extra push from her daughter who enjoys doing the yoga poses that she sees her mom doing!  "I am particularly excited when I see my little daughter showing me yoga poses," says Ivanka.
Ivanka kindly gives all the details of her fit lifestyle from exact diet food, diet habits, work out routines, motivation tools, and even makeup that works well from work to work-outs! Check out the article in the May Shape issue and get some rockin' tips from this blonde powerhouse!
See more at SHAPE MAGAZINE!