At one point in time or another, nearly everyone has that desire to travel. Some of us have lofty aspirations — to travel far away and make their way across a continent or even the world. Other still just want to explore the country that they call home and don't know where to start. Whatever sort of dreamer you are, when it comes down to making those dreams a reality, it can feel like a monumental accomplishment. How do you make the most of the situation? Here are the top five tips on being a first-time traveler.
Video Overview
Make a plan. Then have a backup plan. Then, if needed, forget about it.
Plans seldom come through intact for any venture, especially where so much of a good time riding on things going just perfectly. It's always wise to have a backup plan when you find yourself traveling, but don't let things become too rigid. If you're at all like me, you function best with lists and plans, and if things change abruptly, it makes you cranky. There will be a time when you need just to throw it out and go with the flow of your trip. You won't be able to control everything, so don't feel like you have to.
If you're traveling alone, make sure that you have a contact back home.
This one is more of a safety tip, but should be said. If you're traveling alone, have a contact back home that you check up with periodically throughout the day. When you're in a place that you don't know at all, situations can turn dire in a split second. While no one wants to overthink about it, have a contingency plan in place with your contact, leaving them essential phone numbers in the case of an emergency. Hospitals close to where you'll be traveling, and the numbers for the authorities are great places to start. If you're going overseas, perhaps listing the embassies as well. It never hurts to be careful.
Don't make your vacation a slog.
This may come as a shock to you, but vacations can be exhausting. Especially if you're shoving any and all available opportunities into your schedule. If you're running for 5 days or more on vacation time and you haven't scheduled the time actually to relax, you need to reassemble your schedule. And, no, working while you're away doesn't count either. If you're a book lover, curl up in a sunny window and read. Take a slow turn around a museum or just spend a single day in bed watching crappy online videos or Netflix. You need a little bit of time to recharge those batteries so you can get back to enjoying your vacay.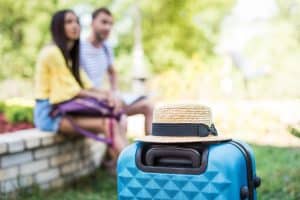 Do at least one touristy thing while you're away.
Sometimes, nothing feels better than being a full-on tourist in a place you've never been. Some locals will even love the fact that you are visiting their fantastic home, especially when they discover that you're a first-time traveler. Ask them where their favorite spots are, to get a genuine feel for the place, but make time for at least one thing that you know those locals never see. Take a ghost tour or brewery tour. Go on a guided hike with a dozen or so other tourists and have fun.
Document the experience somehow.
Maybe this is the stationary obsessed nerd in me, but when I travel anywhere, I make sure to document it in some way. This doesn't have to apply to just the first-time travelers out there either! On my family's last trip up the coast, I made sure to stop any time we were close to the water, and I collected seashells. I even got a piece of sea glass to go with it. One of my friends is an artist. She paints watercolor postcards and writes on the back something that she wants to remember about the place she painted. Whether it is pictures, journal entries, stones you pulled from any body of water you visit, find some way to document your experience. You're lucky to be able to experience the world that you're in that way, having something tangible will help you to remember it.
The first time you venture out into the world is one of the most memorable experiences you'll ever have. It can be a little nerve-wracking to step into a new experience as a first-time traveler, but by remembering these five tips, it might help to bring you a bit more comfort on your journey, not to mention giving you the permission actually to enjoy it. Have fun! And when you come back, you'll be a world traveler.