Vegan Sweet Potato Smoothie
This smoothie is oh-my-gosh delicious in the most delightful way. The Vegan Sweet Potato Smoothie is both filling and yummy so feel free to use this as a meal replacer or just a great moment in your day!
Video Overview
We all know we should "eat the rainbow" but that can be intimidating and hard sometimes. Hard because you maybe have kids, work, a home to run or even just some high maintenance friends 😉 Well, don't worry I am over here testing out what rainbow colored foods mix well together and this one definitely passes the test.
So go make this Vegan Sweet Potato Smoothie and taste the rainbow 😉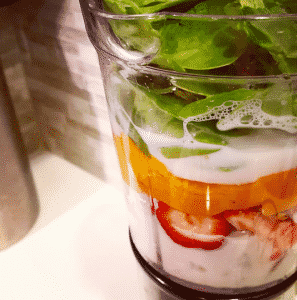 Ingredients for the Vegan Sweet Potato Smoothie:
1 banana 🍌
1/2 (previously steamed) sweet potato
3 tbsp raw shelled hempseed
7 strawberries 🍓
2 cups almond milk
1 cup spinach leaves 🍃 
Some ice cubes 
Instructions:
Poor the harder items into your blender 1st and go softer as you go up (so ice cubes first). Case you're wondering, I have a Bullet (I know I probably need to update that thing!
The best part about this Vegan Sweet Potato Smoothie is that it's high in good fats protein omega6 omega3 iron magnesium phosphorus and zinc thanks to Nutiva hempseed. 😋
So go on and fuel your body with the rainbow! It feels so great once you've been nourishing your body for a while. All that vegan hype actually does catch up with you and you do feel so much better! Even if you aren't vegan, adding some really good nutrition to your diet several times a week can also do you wonders! Trust me! I was a sad vegetarian for a few years but I have recently found my way! Hip, hip, hurray! When you are in a sluggish state and have tons of reasons why, it's hard to think about reorganizing your whole life and diet to feel better…to see the light at the end of the tunnel. But I promise the light is there girl! Your whole life gets better. Like I always say, make your antidepressant…your food.
Have you tried this recipe? Tag me on Instagram! @jessicafeigner and/or comment below!