Paris Hilton is no stranger to flaunting her goods around town (see photo below!), except this time I mean her stuff!
The photo below is of Paris Hilton showing off her stuff a few months back in January at the 2014 pre Grammy party in a House of Milani dress in the color white with embroidered nude mesh covering the majority of the back of her body. It was an absolutely stunning gown!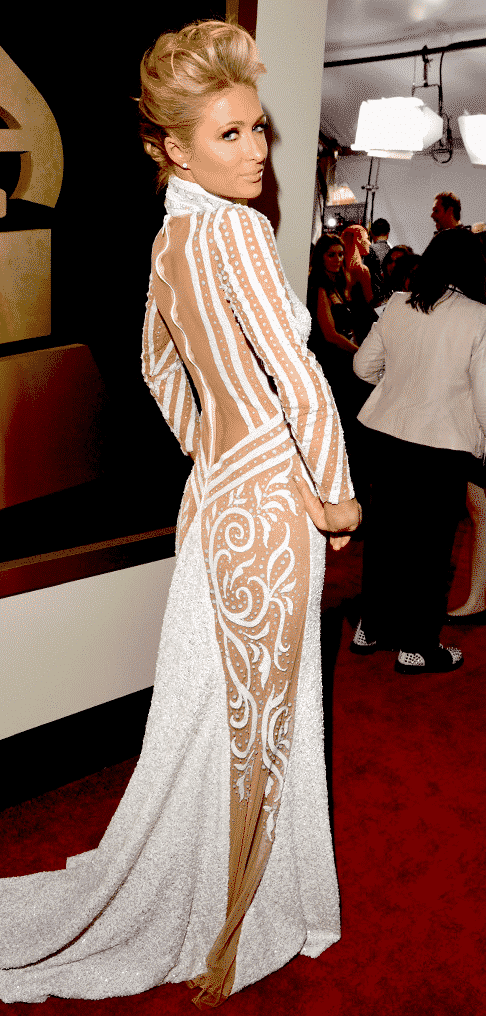 This time she was recently spotted in Beverly Hills, CA, yesterday April 16, 2014 showing off something else to her beloved on lookers! The Hilton heiress was spotted toting around her pup and a see through tote! The 33 year old blonde bombshell graciously showed her on lookers what she totes around on an average day on Rodeo Drive! The contents ranged from an assortment of items which included of course, cash (about $100 in $20's), an extra pair of sun glasses, makeup, her iPhone, a credit card and more!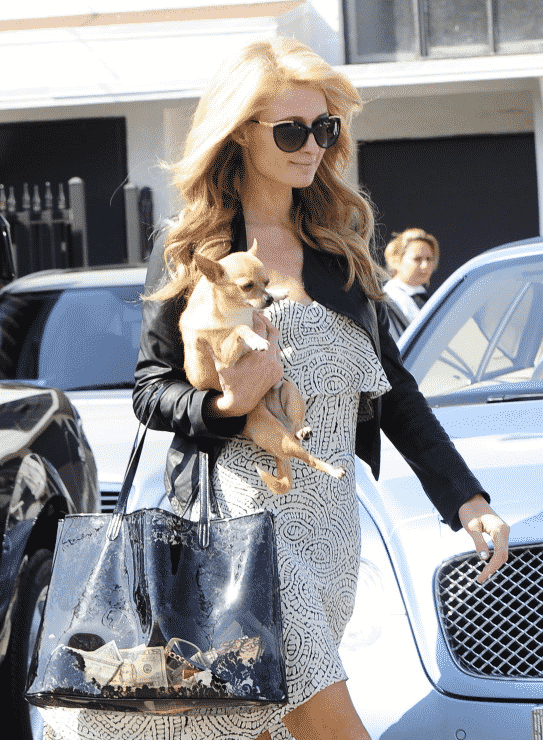 As she exited her Bentley, paparazzi made sure to get close up's of the girly girl's purse, which seems to be the trend right now; see through totes as other celebs have been caught doing their shopping with translucent bags also! Who has time to organize their things into a wallet anyway? 😉
The Simple Life reality show queen is keeping it pretty simple these days with her accessories! Check out some of the season's top designers and their translucent bags in their 2014 Spring Summer collections!
Although Paris is usually a trend setter, I would buy the bag but keep your cash in a wallet!
To get this look check out a cute variation of this look, check out this translucent Burberry summer bag in yellow on the runway!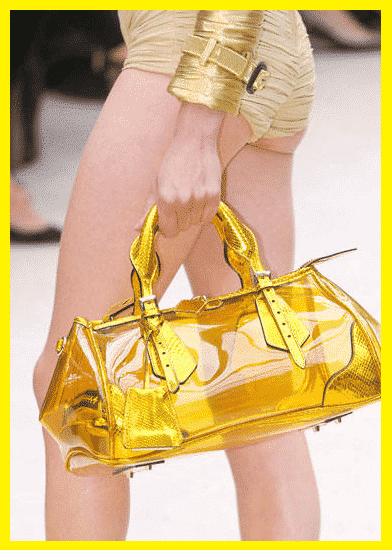 See the photo above, Burberry in yellow, see through on the runway making one hot bag for Spring and summer!