Spring is here and the wedding season is upon us.  Every bride knows that the dress she chooses can make or break the look of the entire occasion.  Here are six of the more memorable celebrity wedding gowns to serve as inspiration in your quest for the dress: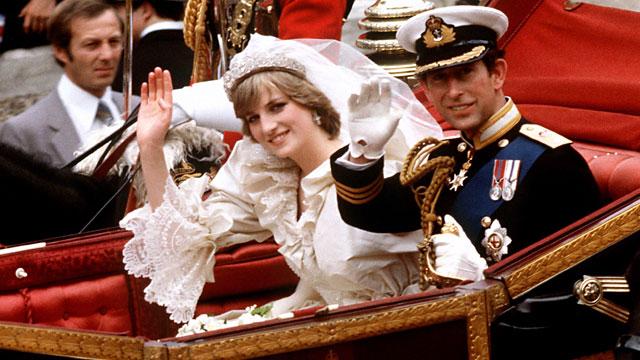 Lady Diana Spencer
3,500 people were in attendance at St. Paul's Cathedral when Lady Diana married Prince Charles in what was called, "The Wedding of the Century". An estimated 750 million people worldwide watched the 1981 nuptials live on television.  Wearing a silk extravaganza with 10,000 pearls and a 25 foot train designed by Elizabeth and David Emmanuel, Lady Diana's gown did not disappoint. The picture of her entering the church with the train of her dress flowing down the stairs soon became iconic and forever associated with the story of her life.  The dress cost an approximate $115,000, but because of its place in history – it is now priceless.
Grace Kelly
Before Princess Diana's "Wedding of the Century", there was Grace Kelly's 1956 wedding to Prince Rainier of Monaco which was labeled the same.  Her gown was a gift from MGM, Kelly's former film studio, and designed by Helen Rose.  It was constructed by three dozen seamstresses over a six week period. The dress is a silk tulle and rose point lace stunner with a veil that is comprised of 90 yards of breathtaking tulle.  This dress is said to be an inspiration for Kate Middleton's gown when she married Prince William in 2011.
Elizabeth Taylor
Though she married many times, Elizabeth Taylor's first wedding to hotel magnate  Conrad Nicky Hilton had the most memorable wedding dress and is often cited as an iconic example of a traditional 1950's wedding gown.  A gift to the 18 year old bride from MGM studios, the A-line dress had a beautiful off-the-shoulder top with a stunning full silk skirt.
Bianca Porez Morena de Macias
In her 1971 St. Tropez wedding to Mick Jagger, Bianca continued her unique trend setting style with only a white Yves St. Laurent smoking jacket over a long silk skirt.  Topped off with a wide brimmed picture hat and veil, the look blended masculine and feminine pieces into a bold, unconventional statement.
Carolyn Bessette
Simply stunning in a white bias cut silk dress, Carolyn Bessette launched the career of the then-unknown Narciso Rodriguez when she married John F. Kennedy, Jr. in their 1996 secret ceremony on Cumberland Island.  Arresting in it's simplicity and grace, the dress and the woman who wrote it became an immediate sensation.
Kate Middleton
When Kate married Prince William in 2011, there were 1500 people in attendance at Westminster Abbey, an estimated one million well wishers along the bridal route and an approximate two billion watching the ceremony on television.  The gown for such an momentous occasion was put into the hands of designer Sarah Burton of Alexander McQueen and cost a reported $400,000. The dress is long sleeved with a lace applique veil, bodice and skirt. The lace applique was hand made by the Royal School of Needlework at Hampton Court Palace.  The train is 110 inches long and the lace veil was held in place by a Cartier tiara borrowed from the Queen.
Ashley Little is a professional blogger that provides advice and information on wedding planning, bridal dresses and bridesmaids dresses. She writes for Winnie Couture, a beautiful collection of fashionable wedding dresses.