Summer Yogurt Fruit Bowl for the Soul~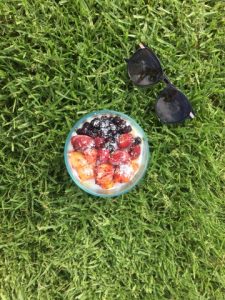 You need a remix done on that boring same ol' breakfast. Its summer, get back in the mix with a jolt of good energy from your nutrient packed breakfast or this anytime summer yogurt fruit bowl snack! This summer yogurt fruit bowl will have you feeling good with your skin glowing and your taste buds singing because it's so yummy! So make plans to spend some time on yourself today/tomorrow/whenever. Get to the store, spend some time in the kitchen and then head outside into that wonderful morning sun!
Video Overview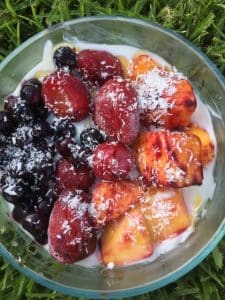 Feel the breeze on your face and listen to the birds singing and fall a little in-love with doing you! Take your mind back to being 13, chillin' in the summertime with not a care in the world. Let your only worries consist of when you're hangin' with your friends, seeing cute boys at the mall and when you will be headed back to the beach again for mid-summer night bon fires. So to help get us older folks in that mindset, we've consulted with an actual 13-year-old, Ms. Adia Feigner. She has crafted this vegan summer fruit bowl and shared it with us at Happy Healthy Hub! Keep reading below for your grocery list of yumminess to go pick up!
Summer Yogurt Fruit Bowl Remix Ingredients:
I'm taking it back to the old school
'Cause I'm an old fool who's so cool
If you want to get down
I'm gonna show you the way whoomp there it is
Let me hear you say…okay I'll stop #90slove 😉 #embarassyourkids
Summer Yogurt Fruit Bowl Remix Instructions:
Pour your vegan yogurt into a deep dish bowl or whatever you have lying around. Or get creative and make a bowl out of fruit! Use a watermelon, cantaloupe or coconut!
Cut up your mangos and guava and place on top of yogurt.
Add the blueberries and top with shredded coconut!
Enjoy
How easy is that? Now grab your favorite shades and head outside! Thank you Ms. Adia Feigner for sharing!